In June Apple announced a host of new products – check out our favourite announcements below!
iOS 16
The newest operating system for iPhone introduces a huge update to the lock screen, and new sharing, communication and intelligence features that change the way users experience iPhones.
The lock screen becomes more personal, customisable and helpful with iOS 16. With a new multi-layered effect, the subjects of photos are set in front of the on the lock screen, creating a sense of depth. Users can also change the look of the date and time with expressive type stiles and colour choices. The lock screen also features widgets similar to Apple Watch faces, making it easier to get information at a glance (such as calendar events, weather, battery, alarms, and more).
Live activities has been introduced to help users stay on top of things that are happening in real time, such as sports games, workouts, ride shares, or food deliveries. Notifications have also been redesigned to roll up from the bottom screen so users have a clear view of their personalised lock screen.
iOS 16 also introduces updates to messages. Users can recall recently sent messages, recover recently deleted messages, and mark conversation as unread.
Wallet updates includes the introduction of Apple Pay Later, which provides US users with a secure way to split the cost of an Apple pay purchase into four equal payments spread over 6 weeks with zero interest or fees.
iPadOS 16
Major updates to iPadOS makes the iPad experience even more versatile and enjoyable. New features in Messages make it easy to begin collaborating and managing content across files, keynote, numbers, pages, notes, reminders and Safari, as well as third party apps. When changes are made to shared files, everyone can see updates at the top of the Messages thread. Similar to iOS 16, users can also edit or recall recently sent messages, recover recently deleted messages, and mark conversations as unread. Furthermore, users can begin a SharePlay session via messages so they can choose a SharePlay activity (like movies, TV shows, workouts, or games) and enjoy it together in sync while chatting via messages.
iPadOS 16 introduces Freeform, a new collaboration app with a flexible canvas, and gives users the ability to see, share and collaborate all in one place without worrying about layouts and page sizes.
Stage Manager: stage manager is the new multi-tasking experience that automatically organises apps and windows, making it easy to switch between tasks. Available on iPads enables with the M1 chip.
Notes: Notes allows users to create neater handwritten notes with the ability to automatically straighten handwriting, use iCloud passwords to lock personal notes, add screenshots in Quick Note, and use Smart Folders with filtering capabilities.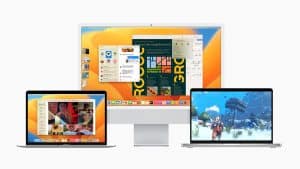 macOS Ventura
The latest version of the mac operation system has been dubbed 'macOS Ventura'. The highlight in macOS Ventura is Stage Manager – a feature which gives Mac users an all-new way to stay focussed on tasks while seamlessly switching between apps and windows. Continuity Camera has also been introduced in the latest update, which uses iPhone as the webcam on Mac.
Updates to Spotlight includes a new design that makes navigation easier, with new features such as Quick Look for quickly previewing files. Live text allows users to search for photos by text inside images. To increase productivity, users can now take actions from Spotlight, starting a timer, creating new documents or running shortcuts.
Live text: Live text utilises device intelligence to recognise text in images across the system.
Accessibility tools: New accessibility tools include Live Captions for all audio content, type to speak on calls, text checker to support proofreading for voice over users, and more.
System Preferences: System Preferences will be called 'System Settings', and comes with a refreshed design that is easier to navigate
Security: macOS security introduces new tools make Mac more resistant to attack, including rapid security response that works in between normal updates to keep security up to date without the need to reboot.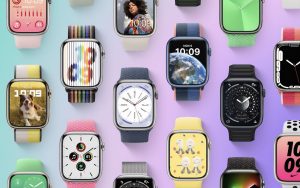 watchOS 9
The latest version of watchOS introduces new watch faces to personalise and customise your Apple watch, plus a new health feature that allows users to track how long an instance of atrial fibrillation lasts. Workout App updates include richer metrics for measuring performance, Custom Workouts to create a structured workout that can include work and rest intervals.
New running metrics include stride length, ground contact time, and vertical oscillation can all be added as metrics on workout views.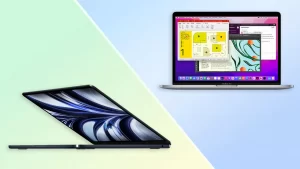 Macbook Air
The all-new MacBook Air has been completely redesigned around the M2 chip. Measuring just 11.3mm thin and 1.2 kilograms, it features a durable aluminium unibody enclose that is built to last. The newest MacBook air has a 13.6inch Liquid Retina display, a 1080p FaceTime HD camera, a four-speaker sound system and up to 18 hours of battery life with MagSafe charging.
The MacBook Air also features two Thunderbolt ports, and a 3.5mm audio jack with support for high-impedance headphones. Furthermore, the Magic Keyboard features a full-height function row with Touch ID and a spacious industry-leading Force Touch trackpad.
The M2 chip takes the performance of MacBook air even further. For extensive workloads like editing complex timelines in Final Cut Pro, performance is nearly 40% faster than previous generations; applying filters and effects in apps like Adobe Photoshop is up to 20% faster than before, and even with a larger display and increased performance, MacBook air delivers the same great, all-day battery life MacBook Air fans have come to enjoy, with up to 18 hours of video playback.
Available in silver, space grey, midnight and starlight.