Tis the season for giving and by now you've (hopefully) begun to think about your Christmas shopping. But thinking of that perfect gift for the special someone in your life can often be a struggle. Well, if that person happens to be an Apple aficionado, then you're in luck! Apple has released their 2022 Holiday Gift Guide and we've rounded up a few of our favourites. Here's our recommendations for the best Apple products and accessories to give this Christmas.
Happy shopping!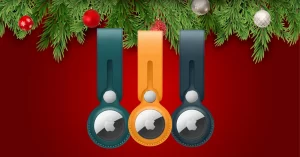 AirTags
We all know someone who constantly misplaces their things. Their keys could literally be in their hands and five seconds later they're turning the place upside down trying to find them! If that scenario seems all too familiar then the AirTag is the perfect holiday gift for them! This circular, stainless steel accessory is compact and discreet, allowing it to easily be fastened to a keyring, bike or pet collar (with the help of a separately purchased AirTag Loop, AirTag Leather Key Ring or AirTag Leather Loop accessory), or slipped into a backpack, purse, wallet or travel luggage. Once that's done, the AirTag can be used to track the location of the object via the Find My application. The sleek design is even water resistance and includes a small speaker, giving the AirTag a wide variety of uses.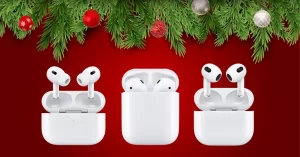 AirPods and AirPods Pro (2nd Generation)
When it comes to wireless earbuds, the AirPods and AirPods Pro are one of the most popular on the market….and it's not hard to see why. September saw the release of the second-generation AirPods Pro. An upgraded version of the original model, this generation includes a H2 chip with support for spatial audio and improved active noise cancellation. Other new new and upgraded features include: adaptive transparency mode (lets you stay aware of your surroundings by letting outside noise in), force sensor controls (adjust media playback and volume via the earbud stem), dynamic head tracking, sweat and water resistance, MagSafe wireless charging case (which holds a total 30 hours of charge) and longer batter life (up to six hours of use, an hour a half longer than the previous generation!). However, if you're just looking for the basics, then the second and third generations AirPods are more than serviceable and have similar capabilities. All three models also support Siri commands and can be used to switch automatically between Apple devices.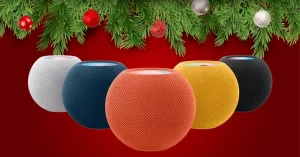 HomePod mini
This HomePod may be mini, but it sure is mighty! This compact smart speaker offers excellent audio quality and can nearly everything its big brother (the HomePod) can do. Controlled entirely via Siri, the HomePod mini can be used as a hub for your HomeKit home automation accessories! Place two in different rooms and voila you're got a home Intercom system! You can even play the audio from your Apple TV through the speaker. For a more immersive sound experience, we recommend setting two up for stereo sound.
If you're looking to pair it with an additional gift, an Apple Music subscription is an excellent option.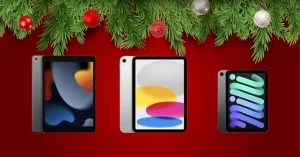 iPad, iPad mini, and iPad Air
Perhaps you know someone in need of a new tablet device? Well, look no further! Apple have a broad range of options that cater to a variety of needs and budgets. Here's our recommendations:
iPad (ninth and tenth generation) – The tenth-generation model is the latest incarnation of the standard iPad. With all the same functionality as its predecessor, the 2022 redesign also includes moving Touch ID to the top button, an increase to the display size (it now measures 10.98 inches) and a front-facing camera positioned on the landscape edge. This generations is of iPad is compatible with the Magic Keyboard Folio and first-generation Apple Pencil. However, if you only need the basics, last year's ninth-generation iPad also makes a great holiday gift! It's definitely the more budget friendly option, so consider adding on a first-generation Apple Pencil or Smart Keyboard as an extra stocking stuffer.
iPad mini – If size is a concern and you're looking for something more portable, the diminutive sixth-generation iPad mini is just the ticket! While it's compatible with a second-generation Apple Pencil, you'll have to look elsewhere if you need a keyboard. While Apple may not have a keyboard product supported by the iPad mini, there are third-party manufacturer and standard wireless keyboard options on the market.
iPad Air – Looking for a tablet with a little more oomph? The iPad Air is just the ticket! Besides the iPad Pro models, the iPad Air has the most power of Apple's tablet offerings. It can handle even the most intensive tasks. For those intending to use it for business or creative pursuits, the second-generation Apple Pencil, Magic Keyboard or Smart Keyboard Folio would make great accompaniments.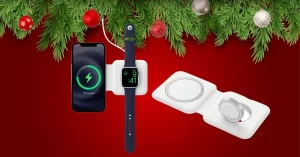 MagSafe Duo Charger
Designed to charge multiple devices from a singly power source, the MagSafe Duo Charger is the pinnacle of modern convenience. The MagSafe Duo Charger magnetically connects to both your iPhone and Apple Watch to wirelessly (and simultaneously!) charge them. Heads up, you'll need to ensure that the intended recipient has an iPhone that supports the MagSafe standard (either a twelve or thirteen series handset). For the travel conscious consumer, the MagSafe Duo Charger folds up neatly and discreetly!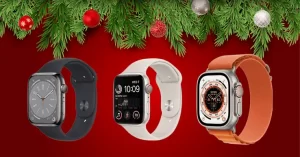 Apple Watch
Now this ones a little tricky, as the Apply Watch Suite provides a dizzying amount of options to choose from. In addition to choosing from one of the three models (Apple Watch SE, Apple Watch Series 8 or the Apple Watch Ultra), each model also includes a dazzling array of options for the case size, material and colour ways! Not to mention there's also the band and band colour to consider…This makes it difficult when deciding on an Apple Watch as a gift.
With its larger screen, faster chip, and new iPhone and Apple Watch crash detection feature, the Apple Watch SE satisfies the needs of the majority of Apple consumers.
However, if you're looking for a larger Always-On display, a blood oxygen sensor, ECG monitoring and temperature sensor for cycle tracking, then the Apple Watch Series 8 might be more your speed.
For the truly adventurous at heart, the Apple Watch Ultra combines all of these features and more. While the 49mm titanium case is larger than the other models, it comes with larger, easier to manoeuvre buttons and a new Action button feature that gives the wearer quick access to app-specific commands. The Apple Watch Ultra also includes a brighter Always-On display, more reliable GPS (even in unfavourable conditions), longer battery life (up to 36 hours, soon to be 60 hours in a yet-to-be-released extended battery optimisation mode), and can even function as a dive computer thanks to its depth gauge and water temperature sensor.
As you can see, there's a lot to consider when comparing the Apple Watch models. So make sure you know what you're looking for before heading down to your local Apple Store!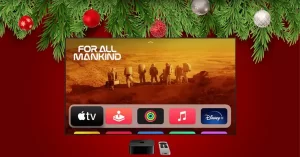 Apple TV 4K
With its new A15 Bionic power processor, the new third-generation Apple TV 4K has a lot to offer. Its CPU is 50% faster than the previous generation, resulting in better audio and video, greater responsiveness, easier navigation and faster UI animations. Gamers will be happy to know that the GPU has also improved by 30%, ensuring smoother gameplay! Depending on your media streaming needs there are two options:
Apple TV 4K (Wi-Fi) model with 64 GB of storage
Apply TV 4K (Wi-Fi + Ethernet) model with 128 GB of storage
Both options also include a Siri Remote that's charged via USB-C.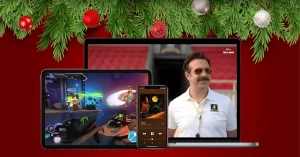 Apple One Subscription
Over the last few years we've seen Apple expand further into software services. A huge component of that has been their foray into streaming and gaming services – Apple Arcade, Apple Music, Apple TV+, etc. Now there's another on the market – Apple One! Apple One bundles multiple Apple streaming subscriptions at a reduced cost. Both the individual and family plans include access to all aforementioned products, in addition to an expanded allocation of iCloud storage. The Premier tier adds even more iCloud storage to your account, as well as access to News+ and Fitness+ services.
Not sure which of these suggestions is the right fit for the Apple fan in your life? Why not consider an Apple gift card! A gift card is a great way to avoid gifting someone with a product they already have or have no use for. It also gives them the freedom to choose the exact model and colourway they have their heart set on!