Whether it be on the radio, the news, or from your co-workers and friends, you've probably heard whispers of excitement over the new Apple Silicon processor for Macs, officially announced on November 11. Or if you haven't, you're now probably wondering – what is the new Apple Silicon chip?
For over a decade, Apple's world class design and development team has been building and refining Apple silicon for iPads and iPhones, while they have simultaneously relied solely on Intel to provide processors for their Macs. The transition to their own homegrown processor represents the biggest and boldest leap ever for the Mac, but it will take up to two years to complete the shift from Intel. Nevertheless, Apple has already unveiled three Macs powered by Apple Silicon; available for orders as of 11 November 2020: the MacBook Air, the MacBook Mini, and the MacBook Pro. 
The Apple Silicon M1 Chip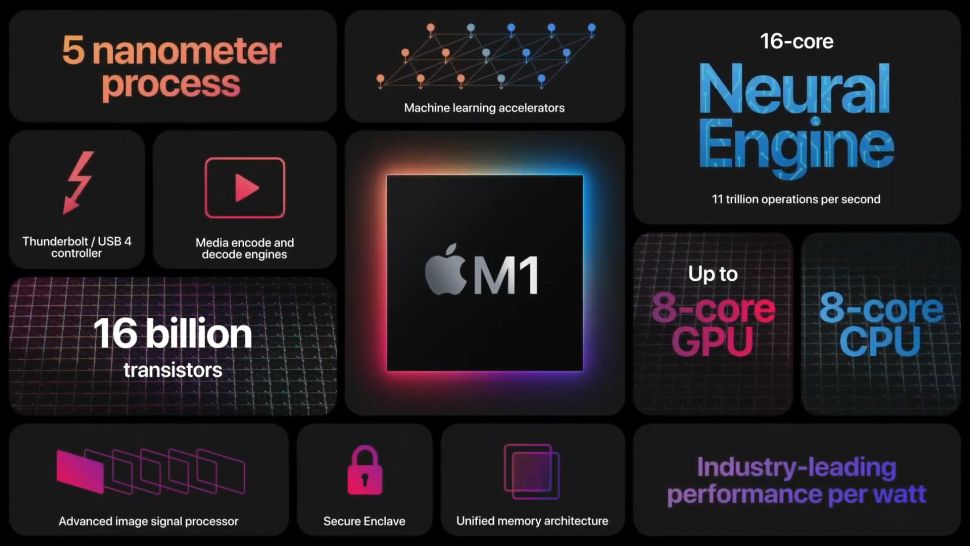 "With industry-leading performance, powerful features, and incredible efficiency, M1 is Apple's first chip designed specifically for the Mac"
The seismic and daring shift from Intel to Apple M1 enables Apple to create an experience on Macs that is more consistent with that of iPads and iPhones, and allows Apple to have more control and flexibility over the launch cycles and features for its notebooks and desktops.  Combined with macOS Big Sur, M1 delivers extraordinary battery life, maximum performance capabilities, and access to more software and apps than ever before.
The Apple M1 is a 5nm 8 core System-on-Chip (SoC) with 16 billion transistors and an integrated 8 core graphics processor (GPU).
What This Means for Future Apple Macs

The best CPU performance per Watt: The 8-core CPU (consisting of 4 high performance cores and 4 high efficiency cores) provides industry-leading performance while running as efficiently as possible. This means photographers are able to edit high-resolution photos at lightning speed and developers can build apps nearly 3x faster than before!
Faster Integrated Graphics: The M1 includes Apple's most advanced GPU. Featuring up to 8 powerful cores capable of running nearly 25,000 threads simultaneously, the GPU can handle extremely demanding tasks with ease. This includes smooth playback of multiple 4k streams and rendering complex 3D scenes.
Blazing-fast On-Device Machine Learning: The Neural Engine in M1 enables up to 15x faster machine learning performance, so tasks like video analysis, voice recognition and image processing will have a level of performance never before seen on the Mac.
MacOs Big Sur Optimised for M1: Apple's latest macOs is engineered to take full advantage of the capability and power of M1. It delivers a massive boost in performance, incredible battery life and the strongest security protections on the market. Macs will instantly wake from sleep, and iPhone/iPad apps can now run directly on the Mac.
The Next Generation of Mac
MacBook Air: A Thin and Light Powerhouse
Boasting the title of one of the world's best-selling 13-inch notebooks, the M1 chip will take the MacBook air to extraordinary new heights.
The powerful 8 core CPU and GPU allows it to perform 3.5x faster than its predecessors and run immersive graphics-intensive games up to 5x faster. It's fanless design means no matter what users are doing, it remains silent at all times. It also features astonishing battery life, with up to 15 hours of wireless web browsing and up to 18 hours of video playback (compared to approx. 11 hours on previous generations).
From November 11, it will no longer be possible to buy MacBook Airs with an Intel CPU.
13-inch MacBook Pro: More Powerful, More Pro
The 13-inch MacBook Pro is Apple's most popular pro notebook and combines high performance with a portable design. The introduction of M1 to the MacBook Pro will allow professionals to channel their creativity and provide the tools students need to succeed. Enjoy a system that is 2.8x faster than its predecessor thanks to its 8 core CPU, and take advantage of remarkably smooth graphics performance due to its 8 core GPU. Other new features include studio-quality mics and Apple's latest camera ISP, which enables sharper images on video calls.
Apple claims the 13-inch MacBook Pro is up to 3x faster than the best-selling Windows laptop in its class, and now boasts up to 17 hours of wireless web browsing and 20 hours of video playback – up to twice the battery life of the previous generation and the longest battery life ever on a Mac.
Unlike the MacBook Air, you can still purchase a 13-inch MacBook Pro with an Intel CPU, but you'll be paying a considerably higher price for them compared to their M1 counterparts.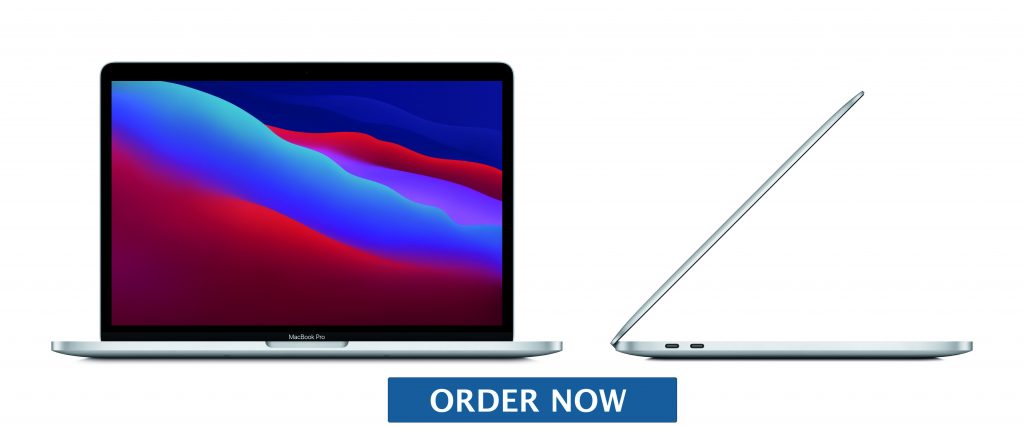 Mac mini: Staggering Performance, Ultra-Compact Design
The Mac mini is by far Apple's most versatile computer, and with M1 it combines incredible performance and new features with the compact design many users have come to love. M1's 8 core CPU and GPU make for a faster desktop that delivers a massive 6x increas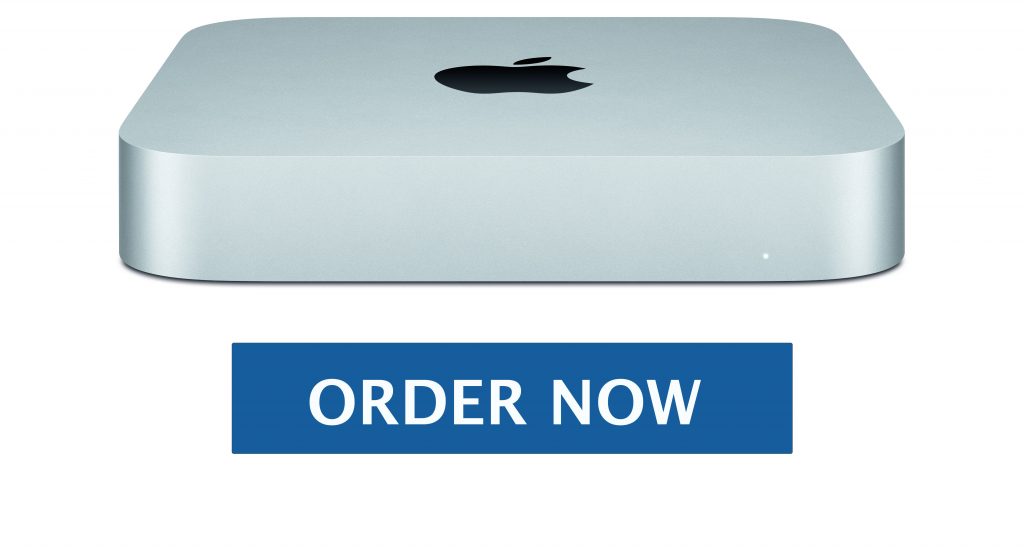 e in graphics performance, allowing users to play graphics-intensive games like "Shadow of the Tomb Raider" with 4x higher frame rates.
Mac mini also features an advanced thermal design to remain cool and quiet throughout heavy usage and supports up to two displays (including Apple Pro's Display XDR in 6K resolution).
The Mac mini will also continue to offer options with Intel CPUs, but like the MacBook Pro, these will be priced higher than M1 minis.
Watch Apple's 'One More Thing' event for a complete overview on their latest announcements and products!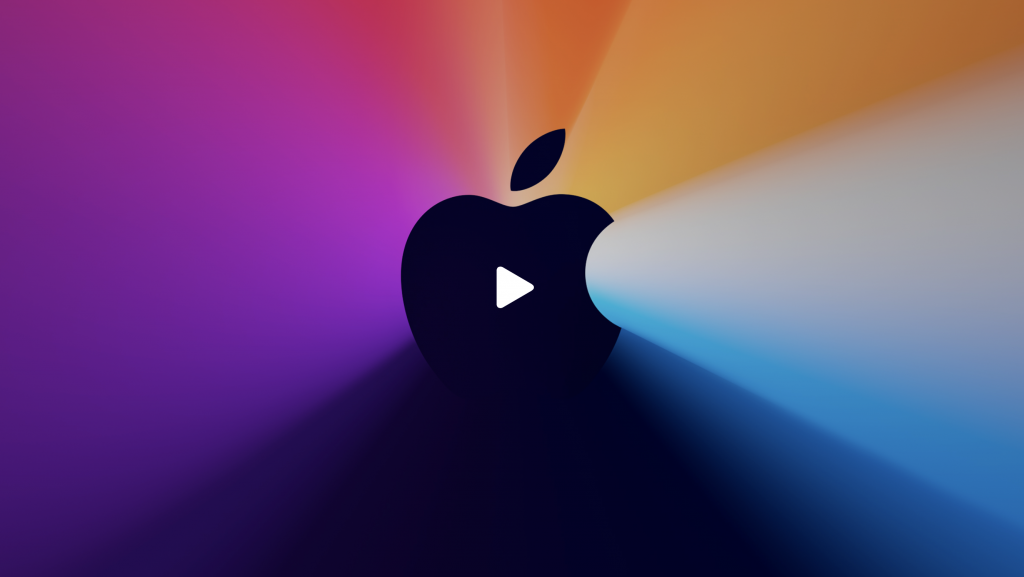 FREQUENTLY ASKED QUESTIONS
What happens to my Intel Mac after Apple completes the switch to M1?
Considering Apple is still releasing products with Intel CPU's and it will take 2 years to complete the switch to M1, it should be expected that Apple will continue to provide support and updates for Intel Macs for years to come. This is backed by the fact that Big Sur, Apple's newest macOS update, will be compatible with MacBook Pros from 7 years ago!
What are the major benefits of M1? 
Longer battery life, faster performance, and enhanced graphics on the new Macs are the major benefits of Apple's M1 chip. Combining those with the cost-effectiveness, and the ability to access all of your apps across all your Apple devices, makes it hard to deny this is a major upgrade for Mac products.
Intel vs M1: Which Mac is right for me? 
While the M1 boasts myriad new features, we understand it can be difficult to say goodbye to what we're used to, especially considering Intel has been the trusted leader of CPU's for over 15 years. While Apple is still offering a range of Macs available with Intel processors, it is predicted most versions of Macs will be transferring over to M1 by late 2021. It is therefore recommended that you purchase the M1 Macs if you are currently in the market for a new device, HOWEVER please check with eStorm before doing so as your current software may not be compatible with Big Sur or the M1 chip. Big Sur, Apple's latest macOs update, is also expected to run marvellously on M1's, as it was specifically engineered to accommodate the new chip.
What's Big Sur?
Big Sur (or MacOs 11) is Apple's newest desktop and laptop operating system, released on November 12 2020. It is full of new and redesigned features that make for a better user experience, and is compatible with Apple's new M1 devices along with its older Intel-based machines. It features a revamped Safari browser, improved privacy features, and the option to have widgets on your home screen. More info on the Big Sur update can be found here: https://www.apple.com/macos/big-sur/