At eStorm, we understand how much you rely on your device everyday – whether it's to check your emails, converse with friends, take important business calls, or binge that new show you're obsessed with. Understandably, when your device faces an accident that renders it unusable, it's imperative that you get it fixed as quickly and affordably as possible.
Oftentimes, people resort to shopping centre kiosks that promise cheap and fast service. While this sounds great in theory, what most people don't realise is that these independent repairers (who are not affiliated or authorised by Apple) are able to provide services that are heavily discounted because of the low-quality materials they use to repair your device.
What is an independent repair centre?
An independent repair centre is a business that is in no way affiliated with Apple. They are not authorised to purchase genuine Apple parts and therefore cannot access high-quality materials and genuine parts from Apple's own manufacturers.
Instead, they purchase very cheap bulk parts from China, most of which do not stick to strict quality control guidelines and certainly do not meet the requirements of Apple's manufacturers. If you believe you are getting a bargain on your iPhone or iPad screen replacement, it's more than likely because they are us using cheap imitation parts or second-hand materials.
On top of using counterfeit parts, most phone technicians are not trained by Apple to follow the best practices in repairing your device. Untrained technicians coupled with inferior parts can result in further issues with your device in the future and may even result in losing your Apple Warranty if considerable damage has occurred.
Apple Authorised Service Providers

An Apple Authorised Service Provider such as eStorm is a repair centre that has been approved by Apple. AASPs have access to genuine Apple materials and high-quality Apple diagnostic tools. Technicians at AASPs are also trained and certified by Apple to deliver outstanding repairs that will last and will not void your Apple Warranty.
| | |
| --- | --- |
| Apple Authorised Service Providers | Independent Repair Centres |
|   ✓ Trained and certified by Apple | ✕ Inferior imitation parts |
|  ✓ Genuine Apple parts | ✕ Untrained and unqualified technicians |
|  ✓ Apple diagnostic tools | ✕ Possible loss of Apple Warranty |
Why Choose eStorm over an Apple Repair Centre?
Retail Apple Repair Centres, run by Apple employees, are a much better alternative than independent repair centres. However, the benefits of having your phone repaired by an Apple-affiliated Service Centre like eStorm means you are able to have personalised service with technicians that are passionate about what they do!
Apple's repair centres sometimes have inexperienced technicians, leading to repeat services, further time without your device, and dissatisfaction with the repairs. At the eStorm Service Centre, we have tenured technicians who have been repairing Apple products for nearly two decades. That vast experiences leads to first time fixes and quick turnaround times.
Furthermore, choosing eStorm for your repairs means you can avoid queues and shopping centres with no obligation to book in advance. We also have a stronger knowledge of older products and are certified Apple Solution Experts (meaning we have multiple suppliers with access to the best prices for new products).
Lastly, in most Apple retail stores they will not take into account intermittent issues. If you have issues with your phone happening  at random, we promise to look into it and will replace components if we feel it's necessary.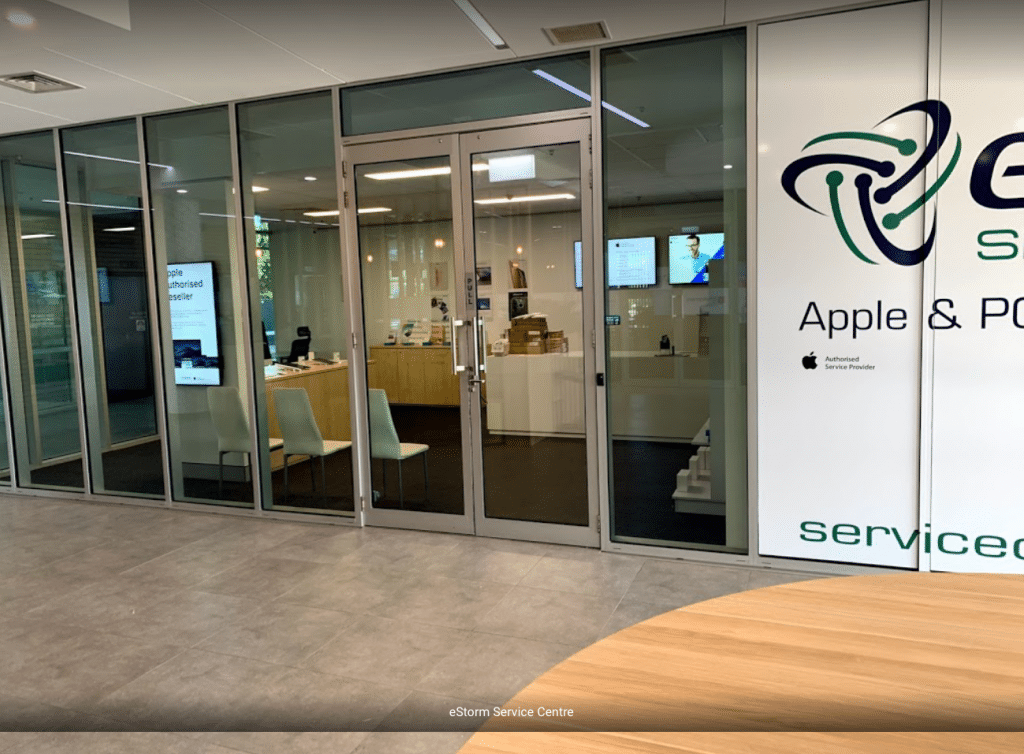 Got any questions? The friendly professionals at the eStorm Service Centre are always happy to help! Call us on (07) 3180 4228 or email

[email protected]