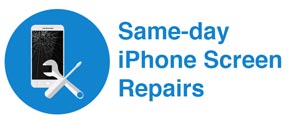 Genuine Apple Parts
As an Apple Authorised Service Provider (AASP), we're able to provide service and repairs that don't void your Apple Warranty or Consumer Law Warranty. We use genuine Apple parts, which guarantees quality and the longevity of your device.
Independent Apple device repairers are not Apple Authorised. They use cheap imitation parts that void your Apple Warranty. These inferior parts, like replacement screens, can often cause touch and gesture problems where the screen doesn't recognise inputs.
To keep your Apple device running as well as the day you bought it, choose an Apple Authorised Service Provider.
iPhone Screen Repair or Whole Unit Replacement:
Our technicians have been trained and certified by Apple to service and repair Mac and iOS devices, as well as deliver same-day iPhone screen repairs. We use only genuine Apple parts and have access to high-quality Apple diagnostic tools, giving you peace of mind that your product is in the best possible hands.
Whether your Apple product is in or out of warranty, we provide walk-in and appointment service during opening hours at both our Springfield and Toowoomba locations.
In warranty service repairs are covered under the Apple iPhone replacement program, some exceptions may apply. Please note that some repairs take 4-5 business days. However, we may be able to provide you with a loaner phone - please contact us to confirm availability.
iPhone Repair & Replacement
We know how frustrating a cracked or faulty phone can be, let alone being without it while it's repaired. That's why we offer a seamless and hassle free iPhone repair service. Whether it's an iPhone screen repair, iPhone battery replacement or iPhone screen replacement - we aim to deliver the best service!
Warranty Service
Not sure if your iPhone is still under warranty? Enter your serial number here to find out!
eStorm Service Centre is an Authorised Apple Service Provider which allows us to process any iPhone repairs covered by an Apple standard warranty or AppleCare+ free of charge. Our Apple warranty is honoured at any Authorised Service Centre or Apple store anywhere in the world.
Before you visit:
Follow these steps before you take your device to an Apple Authorised Service Provider or carrier.
If your device won't turn on or respond, finish as many steps as possible:
Have your Apple ID password
For some repairs, you'll need your Apple ID password to erase your device and turn off Find My iPhone.Click here for more information
Bring your device and any accessories that you need help with.
Bring a form of personal identification, like a driver's license, passport, or other government-issued ID.
For more information on how to use you iPhone please access the iPhone User Guide here.
iPhone Screen Repair:
iPhone XS Max
$519.00 Inc GST
iPhone XS
$449.00 Inc GST
iPhone XR
$319.00 Inc GST
iPhone X
$449.00 Inc GST
iPhone 8 Plus
$279.00Inc GST
iPhone 8
$249.00 Inc GST
iPhone 7 Plus
$279.00Inc GST
iPhone 7
$249.00 Inc GST
iPhone 6s Plus
$279.00 Inc GST
iPhone 6s
$249.00 Inc GST
iPhone 6 Plus
$249.00 Inc GST
iPhone 6
$219.00 Inc GST
iPhone SE, iPhone 5s,
iPhone 5c
$219.00 Inc GST
AppleCare+
AppleCare+ includes two incidents of accidental damage coverage. You can use an incident for screen repair. Each incident has a service fee, as shown.
The following prices are for iPhone repairs with AppleCare+ accidental damage coverage.
| | |
| --- | --- |
| All iPhones - iPhone screen replacement only |  AU $45.00 |
| All iPhones - Full iPhone exchange | AU $149.00 |

iOS Consultation
$30 for 20 minutes - this includes troubleshooting any issues relating to iOS, iCloud, and any applications on your device.
Pricing - Non Warranty Repairs
If your iPhone is not covered by an Apple warranty, then there is an upfront $40 fee to diagnose the fault and provide a quotation for any service or repair required.
*If your iPhone has additional damage that's not limited to the screen, additional charges apply*
Frequently Asked Questions